Old Orchard Facilities
The pro shop is where you will find the answer to all your golf needs. Come here to check in and get up to the tee, or take some time to browse our merchandise. New in stock Logo Shirts, Balls and Hats.
Clubhouse

Old Orchard Clubhouse is the true definition of ageless class. Overlooking the 18th green for 70 years, the Club has hosted countless outings. When stepping through its oak doors, one walks into history. Its facilities include a large patio area with a bar, grill, and dance floor; a small gazebo; a large ballroom with optional seating for more than 100. It is the perfect place to hold your outing.
Snack Shack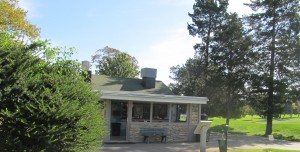 It carries a variety of snacks, sodas, alcoholic beverages and the best foot long hot dog you will ever eat. You can find this beauty at the end of hole 4 and the beginning of hole 15.